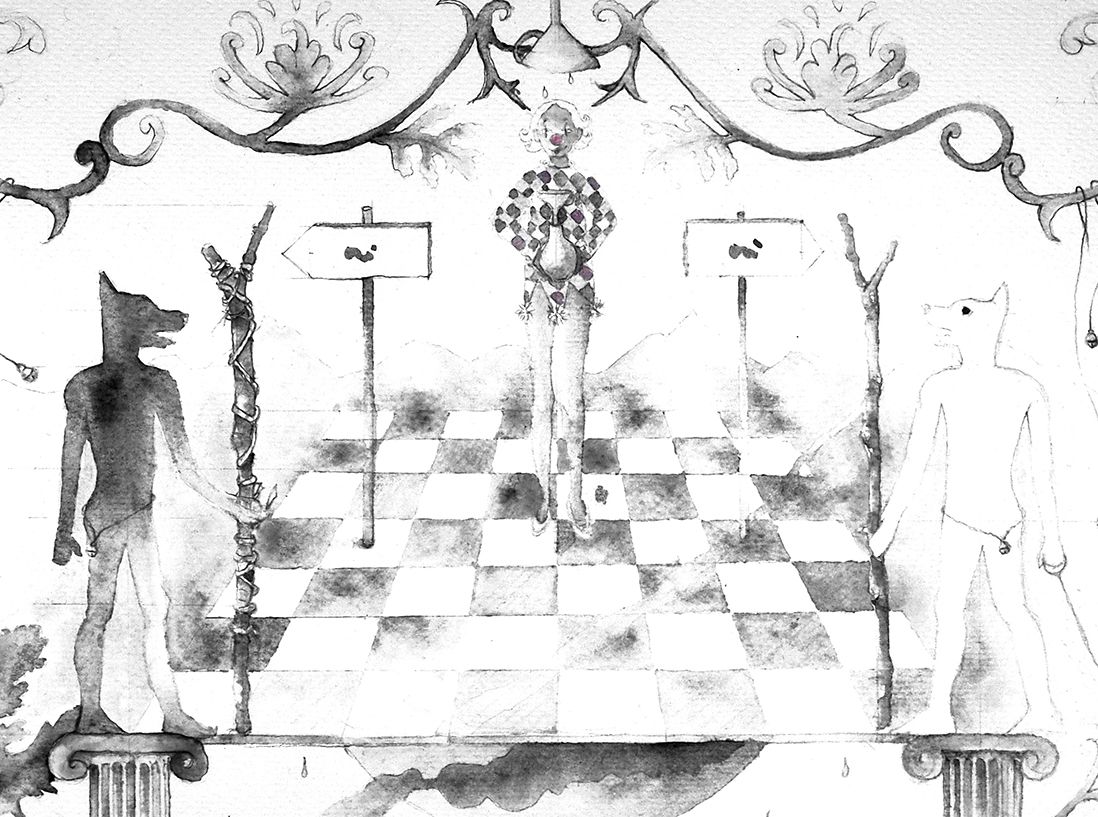 Ancient spiritual practices, esoteric rituals, re-imagined mythological imageries and religious behaviors have been at the center of Sandrine Llouquet´s art making. Fascinated by the powerful influences that religions and beliefs have played in many aspects of the human existence, she has been searching for common connections between them to try to understand their unshakable importance in the human psyche.
Influenced by psychological and philosophical texts, and recently through the support of hypnosis sessions, she has been building an array of realms inhabited by magical, often esoteric, creatures. But her interest in religion lies on the evolution of its rituals, iconography and manifestations rather than on a theological perspective.
Alchemy and syncretism are two recurring themes in her research. Stemming from a personal curiosity in mythology and legends, she collects images, pictures and texts, which then, like in alchemy, are transmuted into esoteric worlds, where eeriness and ethereal magic live side by side. Sandrine also sees alchemy as a metaphor of her art practice and life – a quest for improving herself as an artist, but as a person and as a mother, a spiritual and intellectual research evolving in parallel with material experimentations. Her relocation in Lisbon and the study of Portuguese Azulejo led her to the exploration of ornament as a possible language.
Born in 1975, Sandrine Llouquet graduated from the Villa Arson (Nice) in 1999. A major contributor to the development of contemporary art in Vietnam she co-founded Atelier Wonderful in 2005 followed by the collectives "Mogas Station" in 2006 and "Saigon Creative" in 2010. She then launched and managed during 3 years Salon Saigon, a private museum in Ho Chi Minh city. Sandrine´s work has been exhibited in numerous venues in Asia, Europe and US (Artfem Macau Biennale, Singapore Biennale, Shenzhen Biennale, Kenpoku Art (Japan), Ke Art Center (Shanghai), ARKO (Seoul), VCCA (Hanoi), Palais de Tokyo (Paris), Le Point Commun (Annecy), Fondation Salomon (Annecy), Yerba Buena Center for the Arts (San Francisco), The Mistake Room (Los Angeles)…).
Sandrine is based in Lisbon Portugal and is the founder of O Gabinete de Madame Thao, a space dedicated to paper under diverse forms.